Our family signed up for the veggie CSA share through
Native Offerings
farm this year, but sadly didn't sign up for the fruit share. The other day we headed out to Greg's U-Pick in Clarence, NY to pick strawberries! For $3 a quart it was worth it! These are the best strawberries I've had all season and they are totally better than anything I've picked up at Wegmans.
Here is my recipe for
strawberries with yellow cake and whipped cream
:
Jacob trying his first strawberry
1.) First, thoroughly wash the strawberries. Soak in a large container and allow all the dirt and sentiment to settle to the bottom then drain the water.


2.) Trim off the tops of the berries and cut into quarters.
3.) Roll up your sleeves and start baking. Today we are making a yellow cake recipe (from Better Homes and Gardens cookbook).
Ingredients:

21/2 cups flour
2 1/2 teaspoons baking powder
1/2 teaspoon salt
2/3 cup butter
1 3/4 cups sugar
1 1/2 teaspoons vanilla
2 eggs
1 1/4 cups milk
Directions:
Grease either 2 8x1 cake pans or one 13x9x2 baking pan. Combine flour, powder and salt then set aside.
In a large mixing bowl beat butter with a mixer for 30 seconds. Add sugar and vanilla beat till well combined. Add eggs, one at a time beating 1 minute after each. Add dry mixture and milk alternately to beaten mixture.
Bake at 375 for 30-35 minutes or until a toothpick comes out clean. Cool cakes and then place on a wire rack.
Make whipped cream by beating heavy cream with sugar (to taste) and vanilla.
Assemble cake by topping with whipped cream and strawberries. Dig in and enjoy!!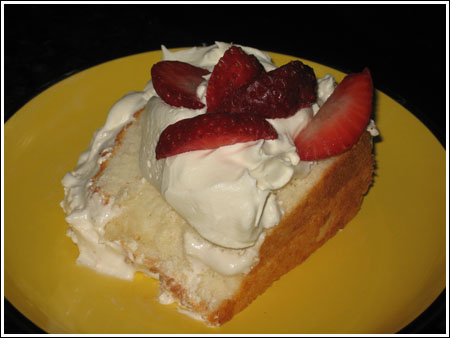 P.S. Christy and Kristen we should start swapping some yummy recipe ideas for all of the greens we get each week. Jay's been making some yummy kale dishes that I'll have to post asap!